Fall is one of the most magnificent times of the year in Illinois, and Heritage Harbor is one of the top destinations for area residents to experience the season. Located in Starved Rock Country, this resort community invites those who are seeking a fun and unforgettable experience to plan a fall-inspired get away this season. Starved Rock is ranked #24 in the U.S. as a "hidden gem" to experience fall colors according to 3,000 individuals polled by Mixbook.
Surrounded by four of Illinois' premier state parks: Starved Rock, Matthiessen, Buffalo Rock and Illini, this area is rich in fall color, providing for a breathtaking and memorable weekend excursion. These destinations receive top billing for their beautiful bluffs, canyons, waterfalls and spectacular scenery– especially during the autumn months.
Heritage Harbor has something for every weekend enthusiast during ultimate fall splendor. From spectacular foliage views paired with outdoor adventure, to delicious dining experiences amidst unparalleled sophistication, this waterfront community is full of quintessential autumn delights that should not be missed. Heritage Harbor is truly one of a kind.
Here are 10 reasons to reserve your vacation rental this fall:
Enjoy a picturesque riverfront backdrop with views of the changing leaves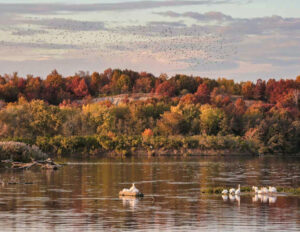 Immerse yourself in the beauty of the fall foliage as you stroll through this resort waterfront community. From vibrant yellows to deep reds, the changing leaves along the Illinois River create a stunning backdrop that is sure to take your breath away. Walk along Heritage Harbor's many walking paths and witness the vibrant colors up close or stroll along riverfront scenes to enjoy the picturesque landscapes of this resort community.
Experience outdoor activities like kayaking, fishing, and boating
The gorgeous Illinois River provides an incredible backdrop to Heritage Harbor. Whether you prefer the thrill of boating or jet skiing, the tranquility of fishing, or the relaxation of kayaking, there are plenty of exhilarating activities available. Heritage Harbor water rentals include pontoon and fishing boats, jet skis, kayak, stand-up paddle boards and more. Here, one can connect with the water and create unforgettable memories.
Savor the local cuisine at some of the best restaurants in Starved Rock Country
When you stay at Heritage Harbor, you will be surrounded by a plethora of dining options for food enthusiasts. Located at Heritage Harbor is Red Dog Grill, offering waterfront dining with indoor and outdoor seating. Here, guests can also relax with a Mai Tai at the Sandbar where there's live music & more. Venture outside Heritage Harbor in nearby Ottawa where you will find restaurants that serve local specialties. From mouth-watering steaks to freshly caught seafood, the chefs in the Starved Rock area use locally-sourced ingredients to create unforgettable dishes.
Enjoy a scenic bike ride along the I&M canal path
The I&M Canal Path is a great place to take in the beauty of fall with a scenic bike ride. The tranquil path winds through Heritage Harbor's picturesque riverfront property, adding to the charm and ambience of the area. The I&M canal path is about 500 feet from Heritage Harbor, offering 97 miles and stretches from Lockport to LaSalle. A short bike ride heading west from Heritage Harbor will take you into Ottawa, and head a little further to Buffalo Rock State Park, all while taking in the beauty of fall. Bikes are available for rent through Heritage Harbor.
Attend one of the many local farms and farmers markets to experience the bounty of fall
As the days get shorter and the leaves start to turn, fall is the perfect time to plan a trip to Heritage Harbor and Starved Rock Country where you can experience seasonal splendor. When you plan your stay at Heritage Harbor, you will be just minutes away from traditional farmer and maker markets, apple orchards, pumpkin patches, corn mazes and more. Pull on your sweater and boots and experience fall favorite farms near Heritage Harbor like Kane Family Farms, Boggios Orchard or the Ottawa Farmers and Makers Market. The annual Burgoo festival in Utica is one of the longest running and largest fall festivals in Northern Illinois. With an annual attendance near 75-90k people, it's a celebration of the fall harvest with a savory and delicious Burgoo stew, craft and antique vendors, car show, live entertainment, games and more.
Explore historic sites and buildings that tell stories of days gone by
There's something magical about visiting historic sites and buildings that transport you back in time. From the historical site of Starved Rock State Park which once was a Native American village, to the Ottawa Commercial Historic District that includes 195 buildings and structures spread out over 26 city blocks, including the site of a historic Lincoln-Douglas debate, this area is rich in history. Awesome Ottawa Tours offers guided history tours 7 days a week. From Ottawa's Underground Railroad Tour to "Wine through Time", each tour is unique and memorable. Enjoy their new 120-minute cruise aboard the Sainte Genevieve Riverboat as local historian, Tom Aussem, guides you while sharing fascinating stories about the history of Ottawa and its role in shaping the Midwest. This cruise will take you west out of Ottawa as you travel to Buffalo Rock, taking in the breathtaking rock faces that edge the river.
Experience fall beauty with ParkRun, a 5K held every Saturday
Fall is one of the best times to be outdoors and enjoy the beauty of nature. And there's no better place to do just that than Heritage Harbor on a beautiful Saturday morning while running along the banks of the Illinois River. Whether you're a serious runner or an outdoor enthusiast, Heritage Harbor offers a 5K every Saturday along the Harbor Walk in front of Red Dog Grill. Parkrun is a free, weekly timed 5K.
Indulge in retail therapy at nearby unique boutiques and shops
Starved Rock Country is home to many unique boutiques and shops. These hidden gems are filled with one-of-a-kind finds and treasures that will make your getaway extra memorable. Whether you're on the hunt for vintage clothing, handmade jewelry, or artisanal home goods, there's a boutique out there that has exactly what you're looking for. Boutiques include Heartland by Hand, Deja vu, Laurilea's Unique Junk Boutique, Iconic Boutique, Floret Plants & Provisions, A Mess of Things, and more.
Visit unique wine tastings, festivals, breweries and more
When it comes to exploring a new city or town, there's nothing quite like soaking up some of what makes it so unique. Utica is also home to August Hill Winery Tasting Room. With a charming, rustic atmosphere and picturesque views of the countryside, the Tasting Room offers an experience that's as enjoyable as it is educational. Head to their winery & vineyard in Peru for Wine on the Hill or a Cave Tasting Experience– both offered on the weekends through October 30. The Ottawa Art & Wine Walk will be held November 4. Enjoy a night out in Ottawa, sample wine and view great art while also doing some holiday shopping. If you're a beer lover, visit The Lone Buffalo by the Tangled Roots Brewing Company, home to 'Farm to Foam' beer in Illinois where you can enjoy craft beer made locally at their Ottawa farm. The Ottawa Scarecrow Festival is happening on September 30. This "Toddler Friendly" festival has something for every family member.
Pack your fur babies and enjoy pet-friendly accommodations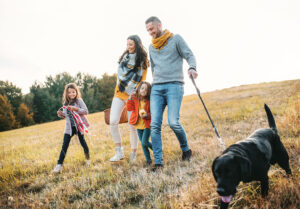 Hitting up Heritage Harbor this fall? Bring Fido and live it up! Make memories, swap stories, and laugh it out—because nothing says "bonding" like a dog-covered couch, right? Plus, you won't want to miss Barktoberfest on October 21, downtown at the Jordan Block in Ottawa. So, let's get this straight: killer fall foliage, a dog park, and pet-friendly digs. What are you waiting for? Book now!
Vacation Rentals Available for Booking Online
Heritage Harbor makes for the perfect fall getaway offering something for everyone– a tranquil countryside escape and an aquatic playground all in one! Take a stroll along the riverfront, marveling at the trees that line up colorfully, or take a leisurely boat ride across the harbor and enjoy some peaceful fishing while enjoying the beautiful autumn view. Guests are invited to reserve their fall getaway online with Harbor Inn by Heritage Harbor where they will find a variety of vacation rentals.